Liu Xin, Director of the Sichuan Provincial Department of Commerce: Take the initiative to participate in an in-depth manner and make Sichuan's contribution to the CIIE
In the light show on the evening of June 29, the Panda Jinbao, Clover, and the major landmarks of Chengdu
---
In the light show on the evening of June 29, the Panda Jinbao, Clover, and the major landmarks of Chengdu, the Global Center, 339 TV Tower, Jinjiang Greenway Tianfu Long Scroll, Sichuan Provincial Library, and Sichuan Art Museum. , As well as commercial plazas such as Raffles City, First Tower, Jinniu Wanda, etc., Jinbo elements "gathered together" at the same time, adding a distinctive Jinbo color to the original colorful nightlife of Chengdu.
The light show to light up the event in Chengdu at night is the launching ceremony of the 3rd China International Import Expo Investment Roadshow jointly sponsored by China International Import Expo Bureau, Sichuan Provincial Department of Commerce, and Chengdu Municipal People's Government.
Sun Chenghai, deputy director of the China International Import Expo Bureau, said that Chengdu is an important central city in western China and has great import potential. At the same time, Sichuan Province is the contact area for poverty alleviation by the Ministry of Commerce. The roadshow launch ceremony was placed in Chengdu, Sichuan. It not only reflects the joint efforts to win the fight against poverty, but also serves Sichuan's high-level openness and high-quality development.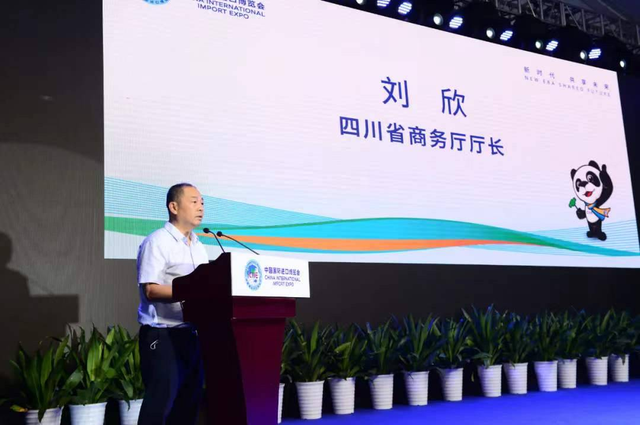 Liu Xin, director of the Sichuan Provincial Department of Commerce, said that the CIIE, as a grand event at the "home", is a major opportunity for Sichuan Province to expand consumption and open to the outside world. The Sichuan trading delegation of the first and second CIIE has achieved positive results in terms of buyer transactions and supporting activities. Currently, it is actively preparing to participate in the third CIIE. Sichuan will continue to tap the huge potential of the consumer market and maintain the development of foreign trade. Resilience, expand more consumption, investment and new industry needs, actively participate in the third CIIE, and make Sichuan's contribution to the "getting better and better" of the CIIE.
The cover news reporter learned that the third CIIE will be held at the National Convention and Exhibition Center (Shanghai) from November 5 to 10 this year. The enterprise business exhibition has a planned area of 360,000 square meters, with six exhibition areas for service trade, automobiles, technical equipment, consumer goods, medical equipment and medicine and health care, food and agricultural products, and a public health and epidemic prevention area, a smart travel area, an energy conservation and environmental protection area, and sports. Four special areas for supplies and competitions.