Chengdu-Europe Express Rail has opened 2,127 trains in 5 years, establishing a new "golden channel" for trade with Europe
The domestic lines are encrypted into a network, and the "Y"-shaped international logistics channel has taken shape
---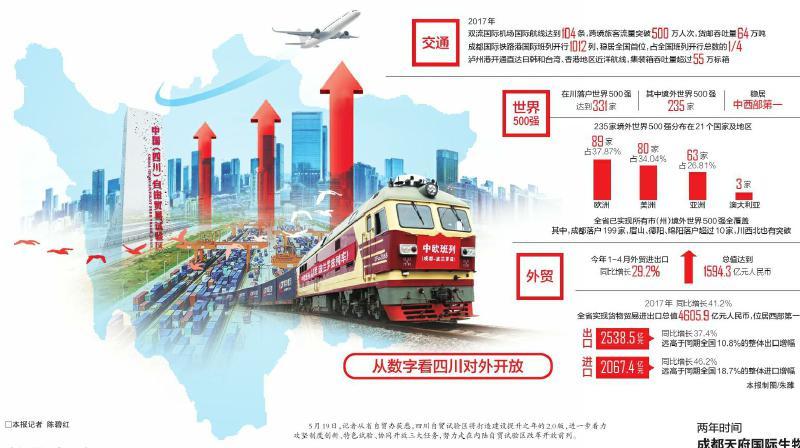 The domestic lines are encrypted into a network, and the "Y"-shaped international logistics channel has taken shape
On April 12 this year, the first China-Europe train (Rong-Europe Express) to Vienna, the capital of Austria, departed from Chengdu International Railway Port. As of early May this year, this international train that has been in operation for five years has accumulated 2,127 trains. In 2016 and 2017, the number of trains operated for two consecutive years ranked first in the country.
With the continuous encryption of domestic and foreign network layouts, a "Y"-shaped international logistics channel has taken shape, which has laid a solid foundation for Sichuan's integration into the "Belt and Road" initiative, accelerating the pace of opening up, and actively promoting the coordinated development of international logistics, international production capacity cooperation, and international trade. basis.
Large channel, large platform
"Y" shaped international logistics channel connects the world
On the day the China-Europe Express (Rong-Europe Express) first arrived in the southern freight center of Vienna, Austrian Railways CEO Matta revealed: "In 2018, we hope that the number of two-way trains can be increased to 600." This number, It is close to the total number of operations of the Chengdu-Europe Express Railway in 2017.
Statistics from Chengdu International Railway Port show that the China-Europe Express (Rong-Europe Express Railway) has connected 16 node cities at the foreign end, with 5 public railways operating stably and 11 customized railways. The public trains include the China-Europe line (Chengdu to Lodz, Nuremberg, Tilburg), the China-Russia line (Chengdu to Moscow) and the ASEAN international sea-railway (Chengdu to Qinzhou Port opened the "Rong-Europe+" ASEAN international rail-sea transportation Express trains, destinations extend to Vietnam, Malaysia, Singapore and other countries). The customized trains are from Chengdu to Mala, Istanbul, Minsk, Smogen, Almaty, Prague, Vienna; Tomsk to Chengdu, Tashkent to Chengdu, Ghent to Chengdu, Milan to Chengdu.
"The China-Europe Express has built a'Y'-shaped international logistics channel from Chengdu west to European hinterland and Central Asian countries, north to Russia, and south to ASEAN." The relevant person in charge of Chengdu International Railway Port said.
"Take" the express train of the China-Europe Express, and the domestic lines have been continuously encrypted into the network. At present, a fast, containerized and interconnected train channel has been formed that radiates to 14 "Rongou+" cities along the coast such as Shanghai, Ningbo, Guangzhou, Shenzhen, Rizhao, Qinzhou, etc., and expands the scope of radiation of goods to the Yangtze River Delta, Economically developed areas such as the Pearl River Delta and Bohai Rim.
"At present, the Chengdu-Europe Express Railway has formed a network structure in which domestic trains and international trains are closely connected and mutually supportive. It has become the only China-Europe train with supporting stable railway channels in China." The person in charge said.
Great economic and trade, great exchange
Set up a new "golden channel" for European trade
In 2017, Sichuan parallel car sales accounted for 15.7% of the national total. Where do these parallel imported cars come from if they are not along the border or by the sea? And why is it so popular in this western province?
The opportunity came quietly two years ago. In January 2015, Chengdu International Railway Port was approved as an import port for complete vehicles. In September 2016, the Ministry of Commerce and other eight ministries and commissions approved the launch of the pilot parallel import of automobiles. With the advantages of the golden freight channel and the import port platform of the China-Europe express train, Sichuan bid farewell to the history of transshipment from Tianjin Port or Shanghai Port. With higher logistics efficiency and lower transportation costs, parallel imported vehicles not only satisfy the huge consumer market in Chengdu, but also stir up western regions such as Yunnan, Guizhou and Tibet.
China-Europe Express Train + Chengdu International Railway Port + Sichuan Pilot Free Trade Zone, bringing adsorption effect:
In March 2016, the designated port of imported meat at Chengdu International Railway Port was officially accepted and operated. At present, many batches of imported meat such as Dutch pork and Belarusian beef have arrived. It has become the country's first direct import of European meat through international rail transportation. Port; since the railway port fully launched cross-border e-commerce business in January 2018, it has taken the lead in the country to realize the cross-border direct mail transportation of China-Europe Express Express and the first batch of cross-border e-commerce bonded stock import business in Sichuan; relying on " The opening of the "Rongou+" international train has successfully attracted TCL, LG, Volvo and other companies that are suitable for iron to transfer to the region. In 2017, it achieved a capacity transfer of RMB 12.5 billion. At the same time, through the promotion of "Sichuan goods out of Sichuan", a special export train from Changhong to Prague and Geely to Minsk was launched to promote the "integration" of Sichuan's high-quality industries, technology, standards and services, such as Anyue lemons and Wenjiang flowers, into Europe. .
More changes are constantly emerging, newer explorations are still moving forward, and a larger pattern is taking shape. Today, this "one way, one port and one area" is producing a deep chemical reaction between Europe and Sichuan, forming a benign interaction between "bringing in" and "going out"——
Cooperate with Poland's Lodz National Economic Development Zone to build the Chengdu-Europe Express Rail Logistics Distribution Center, cooperate with Russia to build the Sino-Russian International Timber Processing Industrial Park, deploy overseas warehouses in Tilburg, the Netherlands to develop cross-border trade, in Prague Held the "Qingbaijiang Czech Special Recommendation Meeting", signed a sister-city agreement with Ostrov in Greater Poland, and held the "China-Europe Cooperation Investment Forum" in Milan... (Reporter Chen Bihong)